Interested in getting a planner but not sure which one is right for you? Read on for a few key things to consider before purchasing your first or next planner?
This post contains affiliates, which means we may receive a commission at no additional charge to you
How to Know Which Planner is Right for You
Consider the Size
Size is one of the essential factors. You need to consider where you will be using your planner primarily and what printable pages you may need include. With a quick search, you can easily find printable pages to include in your planner, but some printables only come in a specific size.
Planners come in a variety of sizes. There are small, medium, and large sizes to choose from. If you are using your planner mostly at your desk, a larger planner may be a great option for you. But if you're looking to have your planner easily accessible wherever you are, smaller or mid-size ones are more ideal to keep in your purse, car, or anywhere on the go.
Look at the Layouts
Although you may fill your planner with additional printable pages, it's also important to take in consideration of what type of layout will work for you.  This is when you think about what you will be tracking, and how many pages you need for writing or adding your own custom printables. Common planner layouts include horizontal and vertical.
Horizontal layouts tend to have wide areas for writing more detail notes in your planner. But you can also divide the writing area into smaller sections by using washi or with a pen. Many vertical layouts contain three sections, which can be used in a variety of ways. For example, you could use the sections to write your morning, mid-day, and evening tasks. Or you may use the sections for your personal, work, and blogging.


Do you want to plan your day out by the hour or merely a quick weekly or monthly overview?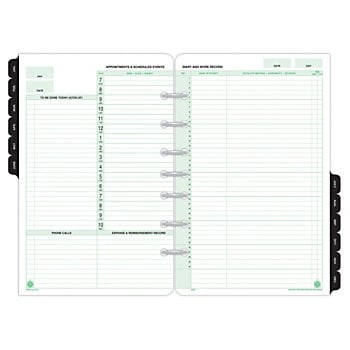 What Pages do You Want?
As you are looking at layouts of the pages, look at the different types of pages as well.  Some planners keep it very basic where it is primarily the monthly and weekly calendar
sheets, while others fit in a lot of extras, such as blank pages for journaling, to-do lists, task lists, and a lot more.
What Purpose Will You Be Using It?
Still not sure what type of planner you want? Think about how you are going to use your planner. It might be for your daily life and schedules, work and projects, home life, personal or a combination of all of these. The purpose determines everything from the size to the type of pages included in your planner. It will also help you figure out if a store-bought planner works, or if you will get a binder and use printable planner pages.
Think About Room for Extras
Many people offer some fantastic printables so that you can customize any planner to your own needs. All you need is a printer, paper, and 3-hole punch. A binder-style planner is also another great option to consider if you're one who likes the ability to include additional pages. Planners that use a disc bound, like The Happy Planner, system make it easy to insert your own customized printable pages. 
Where to Buy
After thinking about each of these factors, your next question may be where to find your next planner. Planners can easily be purchased at your local retail store, like Walmart or Target. Craft Supply stores are also another place to find reasonable price planners. In fact places like Michaels and Hobby Lobby often have sales and/or coupons or discount codes that you can use to purchase planners like The Happy Planner or Recollections planners.
More high-end planners, like Day Designer, Powersheets, or Erin Condren, are purchased online directly from the brand. When considering online planner purchase, it's a good idea to see if the company has any free downloadable planner pages you can try out before buying.
And there you have it, a quick guide for determining your next planner purchase. Let's us know in the comments which planner you looking to purchase next.